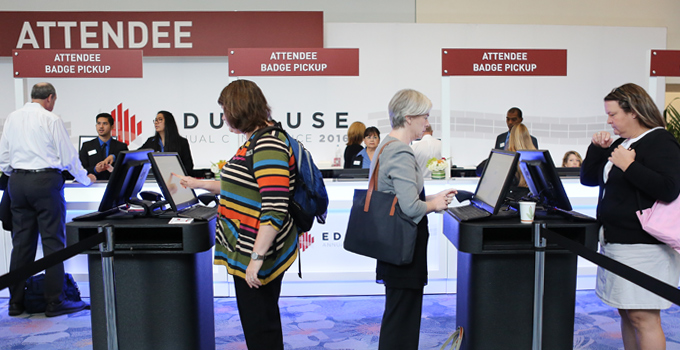 The EDUCAUSE Annual Conference hosts professionals and technology providers from around the world to network, share ideas, and discover solutions to today's challenges. Here you'll have access to the largest gathering of your peers. People who you can relate to, learn from, and actively contribute to the best thinking in higher education IT.
Join 8000+ colleagues, wePresent, Barco and 275+ other exhibitors in in historic Philadelphia as we seek to shape the future by learning from our past together.
EDUCAUSE offers a wide variety of one-off and week-long programs and tracks to help you learn and grow as an innovator in education IT. Below we've highlighted just a few of the many offerings:
One-Off Events
The CIO Experience
The CIO Experience brings together hundreds of CIOs and leadership aspirants from around the world who share a passion for engaging with the community and contributing to a better understanding of the strategic role of technology in higher education.
Diana G. Oblinger Innovator Forum
Designed for CIOs and academic affairs leaders, the forum examines the complex intersection of academic transformation and student success technologies.
Hawkins Leadership Round Table
The Hawkins Leadership Roundtable is a small-cohort mentoring program for new CIOs and individuals actively seeking their first CIO role. This program focuses on high-level IT questions and important IT leadership issues.
Senior Directors Forum
A professional development program for those serving in higher education IT as senior directors. Programming includes skill development, peer networking, and mentoring offered by highly experienced leaders.
Track Programs
Designed collaboratively between industry leaders and technology manufacturers, these week-long program tracks are designed to help you grow your skills and understanding. Information on these tracks can be found on the EDUCAUSE website.
Exhibition Hall
Over 275 manufacturers of education technology will be on-site presenting solutions for higher education environments. Be sure to visit Barco and wePresent in Booth 2101 to discover how are products help to make engaging experiences for higher education students in a variety of learning environments from traditional lecture halls to student huddle spaces.